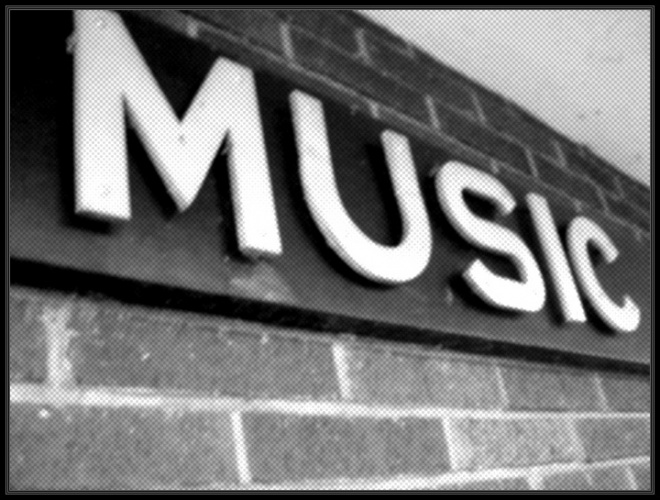 Можно сказать, что музыкальные сервера – это стационарные iPodы. Большинство таких устройств могут поддерживать работу мультирум, то есть выступать в роли сервера для других сетевых плееров, а также они могут заниматься непосредственным проигрыванием музыки. Идея прекрасная – вы имеете одну коробку, которая может делать сразу все.
Что же находится внутри этой коробки?

Обычно это компьютер, который работает под Linux или Windows со специальным ПО, для работы с музыкальной коллекцией, звуковая карта и достаточно маленький экран. Т.е. по сути дела замаскированный ПК.
Давайте посмотрим на внутренности Meridian - Sooloos Source:One.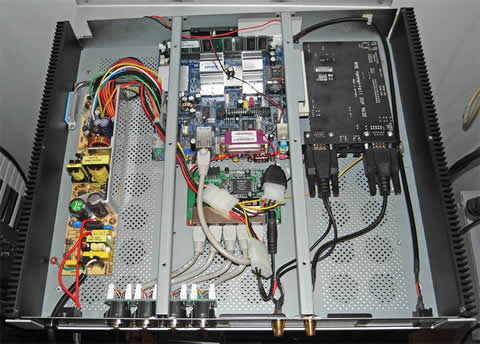 Слева направо: импульсный блок питания, материнская плата VIA Epia PC, звуковая карта RME Hammerfall DSP 9632 PCI. Стоимость €3,600.00.
Бесшумный ПК в паре с хорошей звуковой картой или внешним ЦАПом могут:
- выдавать звук по качеству не хуже, а иногда и лучше отдельных готовых музыкальных серверов
- предлагать больше интерфейсов
- быль дешевле
Но чтобы собрать такой компьютер нужно немного потрудиться. Покупая готовый сервер, вы перекладываете эту работу на плечи инженеров компании-производителя. При этом инженерам нужно платить зарплату.

Если вы все же собираетесь приобрести готовый музыкальный сервер, то помимо качества звука стоит обратить внимание на следующие моменты:

- Резервное копирование.
музыкальный сервер с вашей коллекцией музыки может сломаться, например, упав со стола, или, однажды вы захотите перенести всю музыку на другое устройство. Иными словами, крайне желательна функция переноса музыки из сервера на другие устройства. В некоторых моделях невозможно переносить музыку в другую систему. Возможно, это делается для того, чтобы избежать проблем с копирайтом, но в этом случае вы теряете возможность перехода на другое устройство.

- Доступ по сети.
Проверьте наличие доступа к файлам по сети. Это будет удобно, например, в случае, если вам понадобится сделать резервную копию на сетевом хранилище (NAS). Также расшаривание файлов потребуется, если вы будете использовать систему типа Sonos. Обратите внимание, на то что в некоторых муз. серверах сетевой доступ к музыкальным папкам может быть заблокирован.

- Тэги.
Тэги позволяют вам сортировать вашу музыкальную коллекцию по исполнителю, жанру и т.д.
На что нужно обратить внимание: есть ли возможность ручного редактирования тэгов, есть ли поддержка изображений альбомов, есть ли тэг «композитор» (имеет большое значение для классической музыки).

- Стабильность.
Изучите перед покупкой интернет-форумы на предмет стабильности работы устройства. ПО, установленное на сервере, как правило, проприетарное и может содержать в себе приличное количество багов, которые приводят к нестабильной работе устройства.

- Производительность.
Любое устройство прекрасно работает, если в него загружено всего несколько CD. А как оно себя поведет, если ваша коллекция состоит из 20000 треков? Довольно часто при большой нагрузке музыкальные сервера начинаю давать сбои.

- Железо
Загляните внутрь. Часто внутри можно встретить обыкновенное компьютерное железо. В этом случае можно сравнить стоимость музыкального сервера с ценой «правильного» тихого компьютера с хорошей звуковой картой или внешним ЦАПом.

- Уровень шума
Обычно подобные устройства находятся в комнате для прослушивания. Вентиляторы и жесткие диски могут производить достаточно много шума. Поэтому одним из обязательных требований является пассивное охлаждение без вентиляторов и хорошая звукоизоляция жестких дисков.

- Наличие цифровых выходов
Если вы не будете удовлетворены качеством звука на выходе, цифровые выходы дадут вам возможность подключения внешнего ЦАПа.
Примеры устройств, которые могут выступать в качестве музыкального сервера:

| | |
| --- | --- |
| Specs | |
| Frequency response | 20 Hz - 20 kHz |
| Distortion factor | < 0,002 % |
| Channel separation | > 102 dB |
| Signal-to-noise | > 103 dB |
| Audio inputs analogue | 1 x stereo cinch |
| Audio outputs analogue | 1 x stereo cinch |
| Audio inputs digital | SPDIF (coaxial and toslink) |
| Input sample rate | WAV: 8 - 48 kHz |
| Audio outputs digital | SPDIF |
| Video outputs | VGA |
| Weight | 15 kg |
| Dimensions inc. feet's | 44 x 8,8 x 38 cm |
| Power supply | 110 / 230 Volt |
| Disc drive | CD/DVD-Drive |
| Used memory | Audio formatted memory with damped suspension |
| Memory size | 160 GB, 500 GB, 750 GB |
| Backup function | Yes |
| Cooling | Heat pipe System without fan |
| Networking wired Ethernet | 10/100 m/bits |
| Networking wireless | By USB-stick |
| Encryption | Following Rules |
| Other ports | USB 2.0 |
| Finishes | Silver, black |
| Technology platform | Linux |
| Supported media | CD, CD-R/RW, DVD (only playback) |
| Audio support | MP3 (32 kBit/s - 320 kBit/s), WAV, FLAC |
| Supported formats | TCP/IP, UPnP AV, DHCP, AutoIP |
| Supported data systems | FAT, FAT 32 |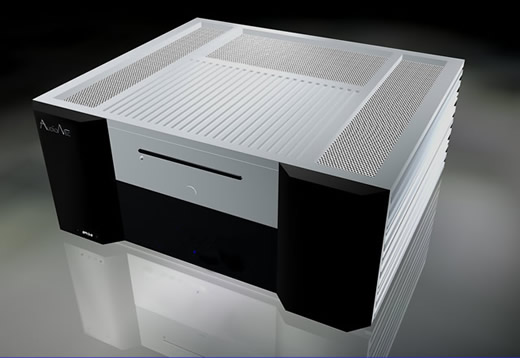 Maximum sampling frequency: 192 KHz
AES/EBU and S/PDIF digital output
Clock generator with extremely low jitter Signal to noise ratio on digital output: 117 db
Storage capacity: 512 Gb (SSD)
Extension until 2.4 Tb. 32 Tb xcan be reached with external storage unit
Size: width: 43cm, Height: 17cm Depth: 43cm
Weight: 25 Kg
User friendly interface available in 7 languages.
Touch sensitive universal Remote Control delivered as standard.
OS: Win7
STV3
€ 11.000,-
(no DAC, digital out only)
SDV3 € 19.200,- (with DAC)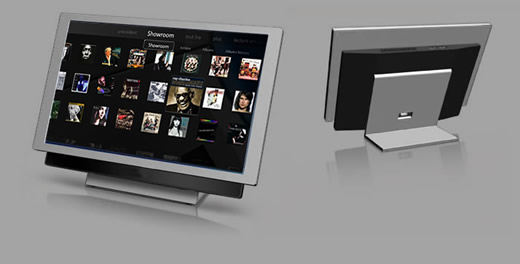 Remote control € 930,- (19" touch screen)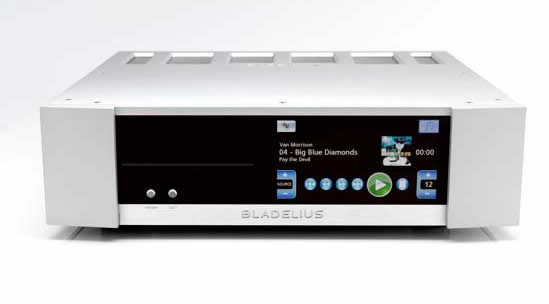 Specs
EMBLA
Distortion
< 0.001%
Data rate
32 bit/192kHz
Digital inputs

1 AES/EBU

1 RCA

1 TosLink

2 USB

1 RJ45

1 Bluetooth

Analog inputs

1 pair balanced

2 pairs unbalanced

Digital outputs

1 AES/EBU

1 RCA

1 TosLink

Analog outputs

1 pair balanced

2 pairs unbalanced

Control

Touch screen

Remote

Weight
12 kg
Dimensions
440×445×125 mm (W×D×H)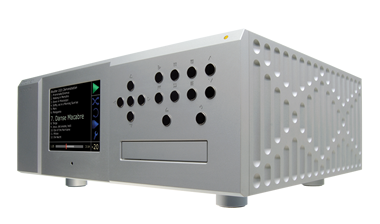 FORMATS: CD, MP3, WAV, FLAC, Ogg, AIFF & others
DATA RATE: Up to 24 Bit / 192 kHz
ANALOG OUTPUT: 2 pairs 3-pin Bal, Adaptable to Unbalanced
DIGITAL OUTPUT: 3-pin AES, Adaptable to SPDIF
VOLUME: 80 dB range in 1.0 dB steps
DISPLAY: 640x480 VGA 15-pin connector
INTERNET: RG45 Ethernet connector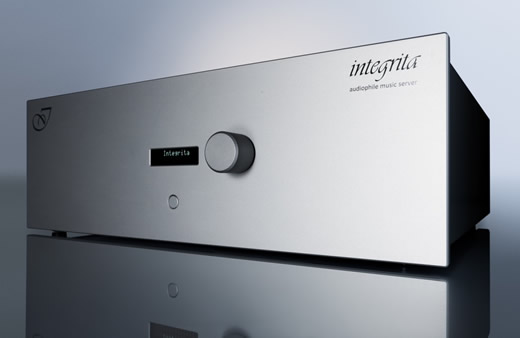 Security: RAID level 5 – intelligent data protection (a hard disk may fail and the data integrity is maintained)
Capacity: 5 internal hard disks*, 2.5 TB, 5TB or 10TB total /1.5TB, 3TB or 6TB usable / *including 1 hot spare
Hard drives: SATA-II AV hard drives certified for 24/7 continuous operation
Fans: None
File types: Including 192khz/24bit, AAC, ALAC, FLAC, M4A, MP3, MP4, WAV, WMA
Connectivity: 1 x Gigabit Ethernet, 2 x USB 3.0, 1 x eSATA
Network: TCP/IP
Management: Integrita Control Centre via web browser
Media server: iTunes, DLNA
Size: 425w x 370d x 140h (mm)
Weight: 11.3kg
Power supply: Fanless, 84% efficient, filtered against harmonic ripple
Power requirement: 60W 100-240V; 50/60Hz
Guarantee: 2 years
2 TB + € 100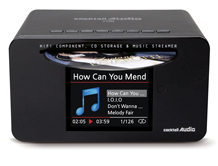 CD Player
Type
Slot loading
Format
CD, CD-DA, CD-R, CD-RW, DVD-R/RW
MP3, FLAC, WAV, WMA, M4A, AAC, Ogg Vorbis, PCM,
PLS, M3U
Amplifier
Output
30W+30W @1KHz, 8Ohm, 1% THD
Headphone
100mW+100mW @1KHz, 16Ohm, 0.1% THD
Line out
2Vrms @1KHz, 0.1% THD
Display
3.5" color-TFT LCD
Input
Line(AUX)-in (recording)
output
Line-out,speaker,headphone, SPDIF(Optical out)
Connectivity
Netzwerk
Wired
Ethernet(10/100) LAN
Wireless (Optional)
801.11b/g/n WiFi USB Dongle
USB
Host X 2ea
High speed 2.0 Host port
Target X 1ea
High speed 2.0 Target für PC
Audio formats
MP3, FLAC, WAV, WMA, M4A, AAC, Ogg Virbis, PCM, Playlist(PLS, M3U)
HD
Type
8,9 cm (3.5") SATA(1/2) (*up to 2 Terabytes)
File system
NTFS/FAT32
Language
deutsch, englisch, französisch, koreanisch, spanisch, russisch, portugiesisch, türkisch, griechisch, tschechisch, hebräisch
Power
AC adapter(24V/3.5A)
Dimensions
18(W) X 9.8(H) X 14.7(D) cm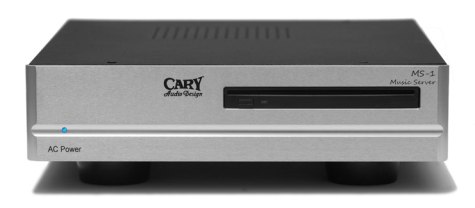 | | |
| --- | --- |
| Drive Mechanism | 24x Slot-loading disc drive for music loading |
| Hard Drive | 1 Terabyte SATA |
| Formats | .flac, mp3, .ogg, .wav, .m4a, .wv |
| Digital Outputs | USB 2.0 |
| Digital Output Rate | 24 bit 96 kHz Max |
| Ports | USB, Ethernet |
| Power Input | 100-240VAC, 50-60 Hz, auto-switching |
| Power Consumption | ~30 Watts |
| Weight | 8 lbs |
| Dimensions | 3.25" H x 11 " W x 12.5 " D |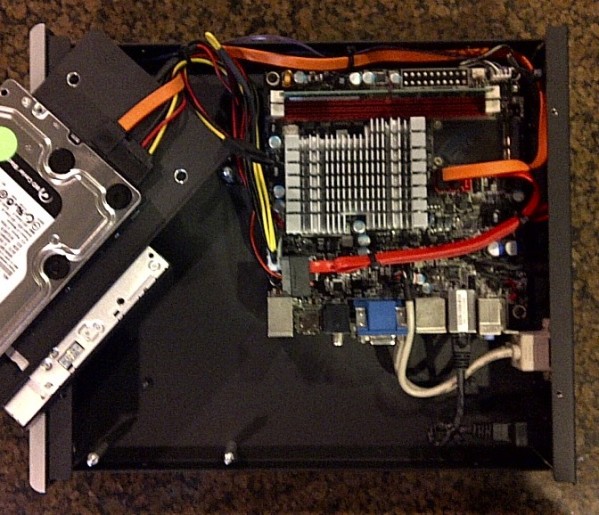 fan-less mini-PCIE motherboard running Linux
IP-based digital distributed audio system.
Colorado old model Vibe was a hard disk player. The new model is a true server solution.
The Color Touch screen includes a Class D amplifier.
Network: ethernet
6 independently- controlled streams
500/750 GB HD
По материалам издания «The Well-Tempered Computer»